When a man is in a relationship, his health becomes more than his own concerns – it's also a concern for his partner. That includes problems he has with performance. A wife, girlfriend or regular lover might not notice problems that crop up occasionally, or she might not immediately consider them an issue, but when it comes to premature ejaculation not only will she notice, but it will soon become a problem.
Problems with ejaculation – too fast or too slow – isn't exactly something men can hide. Even if a couple doesn't discuss it openly, it soon become the elephant in the room, or a problem so large it simply cannot be ignored and eventually becomes oppressive. Talking about this type of problem can be difficult, for obvious reasons. The conversation will undoubtedly be awkward at first but talking to your partner about the problem offers a number of benefits.
While every conversation is unique, there are two basic reactions you can get. Either your partner will open up and share her own feelings, experiences and potentially her advice or she'll nod, listen and not have much to offer during the initial conversation. Don't assume her reluctance to talk about it means she is rejecting you in any way. Many women know little about the sexual performance problems of men, or they know very little. Your partner may go off to do her own research or mull things over and then will want to revisit the topic with you later. Whatever her reaction, the following four tips will help to make the conversation a bit easier.
Practice What You're Going to Say. You'll want to give your partner certain information, and let her know what you may have already tried in terms of treatment for premature ejaculation or what you're planning to do in future treatment. Before you have The Talk, practice what you plan to say so that you don't stumble over yourself while telling her. This will also help you to remain calm and more at ease when you sit down to talk.
Give Her a Minute. Remember that you've had several weeks or months to get used to this idea and do some reading and research on your own – your partner has not. Once you start telling her about the issue, give her some time to process what you've said. Don't pressure her for an immediate response or she could feel as though you're expecting her to solve the problem.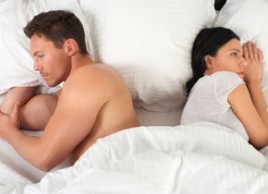 Keep an Open Mind. One of the benefits of sharing your problem is that your partner can offer treatment ideas or advice on how to change your sex routine in order to avoid some instances of premature ejaculation. Keep an open mind about her suggestions.
Deal With it Together. Problems with sexual performance can either divide a couple or unite them together. Facing this type of problem head on as a united front can help to strengthen your emotional bonds and, over time, the physical bonds you have will become tighter and more satisfying as well.
Premature ejaculation may be a problem men experience, but they don't experience it alone. Working with your partner to find a solution can help to alleviate stress, reduce anxiety and improve the efficacy of a variety of treatments. Open and honest communication can essentially take a problem and turn it into a way for a couple to grow stronger together and, in this case, even improve their sex life during the treatment process.